Please Note: The CONECA Web Site displays best on Firefox, Chrome or IE10
It does NOT display well on IE integrated into AOL.

Homepage Updated 12/29/14
Club News ...
CONECA Goes to the MSNS Convention

CONECA Michigan State Representatives at the club table. From
left to right: James Motley, Michael Howard, Ken Potter and Al Raddi.

Ken Potter conducting a PowerPoint presentation on Error-Variety Coins.

This Canadian 1976 cent with an Incomplete Curved Clip is one
of many errors Ken Potter shot at MSNS. More of the coins
shot will be shown in March/April Errorscope.
Delma Romines Passes

by Bill Fivaz

Image courtesy Numismatic News.
Delma K. Romines receiving the Numismatic Ambassador
Award from Numismatic News at the 1988 ANA Convention.
Delma ("Del") Romines, 77, passed away on Tuesday, October 1, 2013 in Louisville, KY. Del was one of the foremost researchers and writers in the numismatic hobby, specializing in die varieties. He has many major discoveries credited to him and was always willing to share his knowledge with other collectors, especially YNs.
Del was born in Slick Rock, KY on Nov. 8, 1935, and was married to Joyce Smith Romines for 42 years. He was a retired working instructor for Naval Ordnance, a position that served him well in his research of how metals worked. He produced hundreds of specialized tokens and medals which center around numismatics. He was a veteran of both the Korean conflict and the Vietnam war.
Among Del's special interests was the area of Hobo Nickels, in which he did extensive research and authored two books on the subject.
In lieu of flowers, the family has requested that donations be made to Kentucky-Indiana Hosparus, 315 East Broadway, 6th Floor, Louisville, KY 40202-1703
An Autobiography by Del Romines
I became involved in varieties and errors at the age of nine in 1944. Discovered the first 1943/2-P Jefferson in 1948, the first 1944-D/S Lincoln around 1949, and the first 1942/1-D dime around the same time. About 50% of all known double hubbed die coins through the fifty cent pieces were discovered by me. Possibly as many as 25% of all known RPMs through fifty cent pieces were discovered by me. I have authored seven numismatic books, of which three have been published, and four are basically finished but not yet published. I have conducted YN seminars across the nation, and have touched possibly as many as 300 YNs through these seminars.
My wife, Joyce, and I have donated several thousands of dollars to these programs through travel and lodging expenses, materials and coins donated, and several small booklets which were printed for each of the seminars. Some TV appearances have been made (1/4 to 1/2 hour programs) on WTAE-TV in Pittsburgh, PA promoting numismatics.
Possibly one of the most notable accomplishments was a nine-year die state study which was probably about 90% complete and accurate. The study was so impressive that the U.S. Mint purchased two sets of the study, and I was told that the study was used to improve the quality of the U.S. Mint sets starting about 1990.
Even though I am becoing physically incapable of conducting YN seminars, I still spend several hours each week with local YNs, and am always available for all numismatists across the nation for information and assistance.

Medal courtesy of Ray Dillard
This is one of many tokens and medals that Del struck over the years.
TECM was the umbrella under which CONE and NECA merged into CONECA.
In The News ...
Real-Time Updates For Die Variety E-Books
Dr. James Wiles, Ph.D. has recently released his newest E–Book, Ultra Modern Doubled Dies 1996 – 2012 based on the files and numbering system of CONECA (Combined Organizations of Numismatic Error Collectors of America).
Dr. Wiles has been researching, cataloging, and attributing twentieth and now twenty-first century U.S. coins for CONECA since the mid 1990s and he has also written several printed books on many of the different denominations of modern U.S. coinage over this time period. For the past few years, Dr. Wiles has focused on publishing E–Books because they are environmentally friendly and they keep the purchase price of the E–Book affordable. Another added benefit of using this modern technology is that more digital photographs can be included showing the different stages and markers of the die varieties
Dr. Wiles has now taken his E-Books to the next level by posting updates of the varieties and photographs on his website, http://www.varietyvista.com. When Dr. Wiles attributes and lists a new variety, reports a new stage of a previously listed variety, or gets a chance to post a better photo of the variety, he does so on the website.
If you have previously purchased one of Dr. Wiles' E-Books or are thinking about purchasing your first, you don't have to wait any longer to find out what has changed. Variety Vista's website (linked above) is periodically updated as new photographs are taken for the following E-Books:
1. Top 100 Lincoln Cent RPMs & OMMs published in 2007.
2. The Lincoln Cent RPM Book, Volume 1 (1909 – 1958) published in 2010.
3. What Are Die Varieties? published in 2011.
4. The Lincoln Cent Doubled Die Book, Volume 1 (1909 – 1958) published in 2011.
5. Ultra Modern Doubled Dies: The Single Squeeze Era (1996 – 2012) published in 2013.
On varietyvista.com, you have access to the most updated information available, so visit the website today, purchase your new books, and enjoy the hobby. All E-Books are $30 each except the Top 100 Lincoln Cent RPMs & OMMs is only $20. Shipping and handling is $4.00 per package and up to 3 E-Books can fit into a single package. Send your check or money order to:
Another Error Coin Pioneer Passes ...
Error Specialist, Numismatic Author Eric von Klinger
Memorial by Mike Ellis
August 22 of this year was yet another sad day for me. On this day my good friend and good friend of CONECA Eric von Klinger died after a long battle with cancer. Born on October 8, 1946 in Wilmington, Ohio, Eric died at 66 after spending most of his adult life working as a journalist, including a numismatic journalist since 1993 which is about when I met him.
From 1993 to 1996 he was an associate editor for Numismatic News and a writer for Coins magazine, both publications of Krause Publications of Iola, Wisconsin at the time. From 1996 to 2002 he wrote and edited for general daily papers before returning to numismatic writing for Coin World of Sidney, Ohio as a columnist writing the "Readers Ask" and "Collectors' Clearinghouse" columns in 2002. These columns were perfect for the longtime CONECA member. He loved error and variety coinage and the mysteries evolving from the minting processes over the years. Health had much to do with his retiring from Coin World in 2008.
During the years 1997 - 2002 and since 2008, though he held no major writing positions in numismatics, he did not leave the hobby. We maintained communications just as any good friends would. And he remained a hobbyist as well. We spent many hours talking about coinage, its origin and evolution in person and through email. However, we probably spent even more time "solving the world's problems" as anyone who knew Eric well knew he was apt to do. We did this because Eric was very caring, often times in a funny way. He had a great sense of humor.
Eric began collecting the year I was born, 1959, and became a charter subscriber to Coin World the following year. Though he loved error coinage he also loved tokens and medals with civil war tokens among his favorite.
As a professional, von Klinger graduated with a bachelor's of English degree from Miami University of Ohio.
He is survived by a former wife, Shawnee (Mark) Culbertson and was interred in Sugar Grove Cemetery in the town of his birth, Wilmington, Ohio.
Like all those pioneers in the error and variety hobby who we have lost throughout this year and last, he will be greatly missed. Goodbye my friend and I hope to laugh with you again when it is my turn. I am sure I will.
New In the Errorscope
Volume 22 Number 5 – September / October 2013
August 21, 2013 – The latest issue of Errorscope, CONECA'S (The Combined Organizations of Numismatic Error Collectors of America) bimonthly journal is now at the printers. The September / October issue should be available to members at or around the first of September from the CONECA Errorscope Online Members Only Area (assessable from the banner at the top of the CONECA homepage) and a hard copy should be showing up in mail boxes to all current members at about the same time.

In this issue, Jason Cuvelier discusses a new find, a 1947 Lincoln cent, found by Richard Miller and is now listed in CONECA'S files as the DDO-005. The article also cites a second coin found by Richard Miller, an EDS (Early Die State) 1942-D Lincoln cent CONECA RPM-012.

1942-D/D 1c RPM-012
James Motley, this year's recipient of the Dr. Lyndon King Outstanding Member Award, gives a status report on the CONECA State Representatives Program. Currently ten States have at least one Representative.

Jeff Ylitalo has an interesting article about two doubled dies from Greece. The first is a 1982 one drachma and the second is a 1976 two drachma.

1982 Greek One Drachma Doubled Die
CONECA 30th Anniversary Medal, struck on a 2013 American Silver Eagle order form will be included with this issue of the ErrorScope.
Aluminum wrong planchet errors are discussed in an article by Jeff Ylitalo. A British fifty pence and a five pence pieces are high lighted and followed by a 2005 Chile 100 pesos not only struck on an aluminum planchet but the obverse die was misaligned and the reverse die had a ninety degree rotation.
Anybody wanting to join CONECA should contact Rachel Irish at 101 West Prairie Center #323, Hayden, ID 83835 or emailMRirish5@roadrunner.com. A copy of the application form may be download at http://conecaonline.org/content/join.html. Annual dues are as follows: Adult Member $25.00 per year, Young Numismatist (online Errorscope only) $7.50 per year or (online ErrorScope plus mailed hard copy) $17.50.

CONECA members wishing to receive a login username and password to access the Errorscope Online Members Only area, please email the Membership Coordinator, Rachel Irish at the address listed above. A valid email address on file with CONECA is required for access to current and back issues of the ErrorScope online.
Submitted by Timothy Clough - Public Relations Coordinator
CONECA 30th Anniversary Medals Now Available!
Struck On 2013 American Silver Eagles
The Combined Organizations Of Numismatic Error Collectors Of America is kicking off its 30th Anniversary Celebration with a limited-edition medal struck on a 2013 American Silver Eagle! It features CONECA's logo on the obverse -- an outstretched eagle with a ribbon in its beak which boasts CONECA's motto, "Knowledge Through Education". The reverse features a stylized 30th Anniversary motif and conveys the fact that CONECA was formed in 1983 and is still going strong in 2013.
In a departure from its previous 20th and 25th Anniversary medals in 2003 and 2008, it was decided that no normal strikes would be made this year and they would be struck on 2013 dated American Silver Eagles.
According to Ken Potter, who arranged to have them struck, each Silver Eagle was hand fed into a press so that a full date and portions of the lower design can be seen on the obverse of the Silver Eagle, while portions of UNITED STATES OF AMERICA can be seen on the reverse. Many of the overstrike medals are similar, but every one of them is different in one way or another due to them being hand fed into the press.
CONECA's Medals Program was the brainchild of its 2003 Board of Directors not only to celebrate its anniversaries but as a way of raising funds for the club with the specific purpose of preventing a raise in membership dues.
In 2003 CONECA's annual dues were $20 and it was demonstrated that they needed to be raised to $30 if the club was going to continue to exist. A compromise was hammered out with annual dues only raised to $25 with several Board Members committing themselves to projects to help generate the necessary funds to keep the club running without raising dues again the next year. To date, CONECA has never had to raise dues again, a large part due to the profits made from medals sold in 2003 and 2008.
The medals will be available to members and nonmembers alike and will be struck though 2013. No additional medals will be struck after 2013. CONECA's initial order was for 100 pieces. CONECA has typically sold somewhere between about 70 to100 of most of its past silver issues.
It should be noted that due to the sharp contrast between the satiny finish of the Silver Eagles vs. the proof finish from the CONECA dies that a special photographic technique had to be used to light up both the Silver Eagle and the CONECA overstrike. This prevented the photographer from being able to show the deep cameo effect to best advantage. According to Ken Potter, who was first to see the medals, "they are stunning with deep cameo devices on highly reflective mirror-like fields contrasted against the satiny finish of the host coins."
They may be ordered at $65 each, plus $4 postage for the first medal and $1.50 each postage for any additional medals ordered beyond the first. Foreign buyers should check with program coordinator, Al Raddi for postage rates to their country.
Checks and Money Orders should be made out to "CONECA" and sent to: CONECA Medals Program, c/o Al Raddi, 591 Tower Ridge Ct., Milford, MI 48381.
CONECA will also have a club table at the American Numismatic Association's, World's Fair Of Money this August in Chicago where the dies will be on display and medals for sale.
They may also be ordered from the club's web site via PayPal by clicking here: CONECA 30th Anniversary Medals Pay Pal Order Formor by ordered by mail using printable order form by clicking here: CONECA 30thAnniversary Medals Order For
"Oh, No It Ain't ...!!" #37
Is My Blistered Clad Coin An Error?
by Ken Potter -- NLG

Here is a 1973 Washington Quarter that was hit with a welder's torch.
July 26, 2013 -- The short answer to this one (until we get more time for a more detailed explanation) is that it is not an error coin but one that was "hit" by a welder's torch and then cleaned to remove any discoloration. These show up quite frequently at coin shows where CONECA has a table (or a member is there to help answer questions). The images were submitted for educational purpose by Tammy Mills. We thank her for her help in advancing the cause of education on this page!
"Oh, No It Ain't ...!!" #36
Is My Penny Struck On A Dime-Size Copper Planchet?
Is It An Error Coin?
by Ken Potter -- NLG
July 25, 2013 -- This is a topic that I should have addressed long ago since I see at least a few of these every year at coin shows from folks that feel their Lincoln cent may be struck on a planchet punched out of copper strip by punches intended to create dime planchets. They think it is some sort of penny/dime error. Of course, such an event could occur, but in every example I have seen thus far the answer is immediately obvious. See Rest Of The Story >>>>>
Recent Finds ...
2007-P Idaho Cud Found In Roll

Photos courtesy of Bill Anderson / Coin courtesy of Jeremy N. Hall
Here is an image of the entire coin.

Here is a close up shot of the cud.
July 2013 - Collector, Jeremy N. Hall of Michigan reports finding this neat Major Die Break (affectionately known as a Cud) while searching a roll of Idaho quarters in 2007. Cuds occur when a portion of the die breaks away and leaves behind a void such as we see here. They always involve a section of the shank of the die and extend inward from the rim into the field or design.

The term "Interior Cud" is a misnomer for a Die Break that occurs somewhere within the design (or field area) but does not include the rim (or shank) of the die. Die breaks that do not involve the shank of the die are simply described as Die Breaks with modifiers such as small, medium or large. It is a term that is frequently used to make a Die Break seem more important than it is by folks attempting to sell them in auctions, etc.

Cuds are commercially valuable and quite collectable while Die Breaks are usually of little if any commercial value with their value being more as educational or in being uses as "markers" to help identify other more important varieties such as a stage of a doubled die, etc. A very few do attain collector status but 99.9%+ do not. Conversely, cuds are avidly collected and catalogued. This Cud, while not huge is quite noticeable and represents a nice find.
New In The ErrorScope
Volume 22 Number 4 - July / August 2013
July 2013 - CONECA (The Combined Organizations of Numismatic Error Collectors of America) has released its latest bimonthly journal, The ErrorScope. The July/August issue is now in member's hands and posted in the Online Members Only Area (assessable from the banner at the top of the CONECA homepage).

Image courtesy of Heritage Auctions
In this issue, Robert Knauss in his series of "In Search of Standing Liberty Quarter Varieties and Errors" shifts gears and discusses and illustrates some of the errors found on Standing Liberty Quarters.

Image courtesy of Ken Potter
Ken Potter discusses and illustrates a 1968 Columbian 20 centavos piece that was submitted by R.A. Medina. This particular variety has some very attractive heavy doubling.

Image courtesy of Roger Paulen
Roger Paulen has submitted an outstanding article illustrating a rare 1980 Canadian one cent coin pileup made up of three coins that were broadstruck together during a single strike. Each of the three coins can be separated and set next to each other making it a very interesting polygamous coin marriage.
This issue also contains a nice review of some of the Doubled Dies from the Oregon and Minnesota Statehood Quarter Program. Also some detailed images of the 1920 Pilgrim Tercentenary Commemorative half dollar FS-901 showing the progression of the die crack from early die state through late die state.

CONECA President, Mark Lighterman, announces that CONECA will be celebrating the organization's 30th anniversary with a special double struck medal; order forms will be included in the September October issue of ErrorScope.

James Motley, CONECA Board of Directors - Membership Chairman, has been working hard to restart the CONECA State Representatives Program and it is now up and running. This is a very important endeavor Mr. Motley is undertaking and will hopefully not only increase our membership but will also aid collectors, old and new alike in the study / identification of errors and varieties at local coin clubs and shows. Any members that are interested in helping out are urged to contact Mr. Motley at Coneca@alpinecomputers.net

Anybody wanting to join CONECA should contact Rachel Irish at 101 West Prairie Center #323, Hayden, ID 83835 or emailMRirish5@roadrunner.com. A copy of the application form may be download at http://conecaonline.org/content/join.html. Annual dues are as follows: Adult Member $25.00 per year, Young Numismatist (online ErrorScope only) $7.50 per year or (online ErrorScope plus mailed hard copy) $17.50. Club and Family memberships can also be found by clicking the aforementioned link.

CONECA members wishing to receive a login username and password to access the ErrorScope Online Members Only area, please email the Membership Coordinator, Rachel Irish at the address listed above. A valid email address on file with CONECA is required for access to current and back issues of the ErrorScope online.
Submitted by Timothy Clough
In The News ...
Ultra Modern Doubled Dies: The Single Squeeze Era
Book by Dr. James Wiles Released
Which of the following most intrigues you about the ultra modern era of coin collecting? Is it the 50 States Quarter Program, the Westward Journey Nickels, the Lincoln Cent Bicentennials, the Presidential Dollars, or the myriad of commemoratives? Do you collect U.S. mint products like mint sets, proof sets, or coins with special finishes? Or do you collect by searching pocket change or rolls of coins retrieved from the bank?

Want to intensify the thrill of the hunt, or put an extra zing in your collection? Ultra Modern Doubled Dies will empower you to recognize known varieties and anticipate new ones. Whatever your interests and no matter how you collect, this E-Book will guide you into the stimulating world of ultra modern doubled dies.

This E-Book contains over 1000 web pages highlighting nearly 900 different doubled dies from 1996 through 2012. From Lincoln Cents through Presidential Dollars, it includes all the known single squeeze doubled dies listed in the CONECA Master Listing for those years. You will have over 5400 high-magnification digital color photos at your disposal. With 73,000 hyperlinks, you can access any variety in just three or four clicks of the mouse.

Ultra Modern Doubled Dies is available for immediate delivery. And best of all, it's just $30 + $4 shipping and handling. Go towww.varietyvista.com for more information on how to order.

In The News ...
Major Die Cracks Reappear On Proof Cents!

Photo © Ken Potter 2009 / Coin Courtesy of Thomas Baalman

Photo © Ken Potter 2009 / Coin Courtesy of John Frye
In a Numismatic News article, Ken Potter says: "After a major lapse in time, I am again getting reports on major die crack varieties found on proof coins. The latest two are both on the Professional Life Lincoln cent reverse and were found in August.
Thomas Baalman of Kansas reported the first one to Numismatic News on Aug. 6. It features a major die crack that runs from center of the bushes at front right corner of the old Illinois capitol building into the field, through the "T" of CENT and the rim. He ordered two of the regular 18-coin proof sets from the Mint and found one in each set. I listed it in the Variety Coin Register for the date, Mint and type as VCR#1/DCR#1.
John Frye of Kentucky found another major die crack on a proof version of this cent while searching through three 18-coin silver proof sets that he received from the Mint in early August and found one with a spike-like die crack that runs from the center of the bushes to the right of Lincoln down into the field and through Lincoln's left leg, (viewer's right), the tip of his right shoe, through the left vertical of the "N" of CENT and the rim. He found it on Aug. 17 when he decided to check over the three clad and three silver sets that he owned."
He then goes on to describe the rarity of major die cracks on proof coins, possible causes, estimated values and explains that die cracks on business strike (circulation quality) coinage rarely ever adds any value.
See The Rest Of The Numismaster Story
Note to authors/publishers: CONECA is interested in publishing news releases highlighting current stories published elsewhere that are associated with error-variety coins and/or the minting process. Interested authors/publishers are encouraged to send an abstract along with a photo or more and details of when and where the article was published to the CONECA webmaster at:conecawebsite@koinpro.com (please -- only email submissions).
In The News ...
2001-P Convex Reverse JFK Halves Examined
According to a story in Numismatic News, Pepe DeMeo of New York sent in a 2001-P Kennedy half dollar with some very interesting effects. While a normal coin has basined (concave) fields, the reverse of his coin is convex, somewhat like many brass buttons.
A normal concave effect allows the central design to be raised up from the recess to gain relief and still be lower than the rims to protect the designs from undue wear and to facilitate the stackability of the coins.
On DeMeo's coin, the area where it slopes down toward the rim the fastest begins at the circle of stars, though the field seems to actually begin its decent towards the rim much closer to center. Many of the stars that encircle the central design are connected by die stress cracks.
As a result of the convexity, the coin does not lie flat on the reverse rim but instead teeters on the uneven high points of the design, upon which it could actually be spun like a top.
See Large Detailed Images Here
Note to authors/publishers: CONECA is interested in publishing news releases highlighting current stories published elsewhere that are associated with error-variety coins and/or the minting process. Interested authors/publishers are encouraged to send an abstract along with a photo or more and details of when and where the article was published to the CONECA webmaster at:conecawebsite@koinpro.com (please -- only email submissions).
Our Favorite Errors ...
What's a Mirror Brockage?

Photo © Ken Potter 2008
Here is a nice "Mirror Brockage" on a Young Head Elizabeth II British Penny submitted by Mark Longas of MI
September 27, 2008 -- Want to know what the difference is between a "Mirror Brockage" and a later stage Brockage? All you have to do is go to theCONECA Glossary and look up Brockages and you find the definition and you'll see that some images have been added for your viewing pleasure. In the future, we'll be adding more images a few at a time for other error-variety types. For those of you also looking for a checklist of errors to help you track your collection, you may also want to go to Mike Diamond's check list here: Mike Diamond's Error-Variety Checklist.
In The News ...
Not All Error-Variety Coins Valuable

Image © Ken Potter 2013 / Coin courtesy of Gary Yost
This steel cent is missing the 3 of date. Filled dies such as this rarely add much value to the coin.

Image © Ken Potter 2013 / Coin courtesy of Mike Van Allen
While the die deterioration doubling on this coin is strong it is not of any commercial value.
May 09, 2013 -- If you have questions about error coins, you are not alone. Many are asked over and over again. My experience at a recent show helps highlight some of them.
Ken Potter attended the Michigan State Numismatic Society Spring Convention April 19-April 21 where he offered free error-variety coin examination "answerman" services and shot photos of some of the coins that came in.
See the Numismaster article here: >>>> or see the hard-copy issue of Numismatic News for the entire story with all photos.
Note to authors/publishers: CONECA is interested in publishing news releases highlighting current stories published elsewhere that are associated with error-variety coins and/or the minting process. Interested authors/publishers are encouraged to send an abstract along with a photo or more and details of when and where the article was published to the CONECA webmaster at:conecawebsite@koinpro.com (please -- only email submissions).
CONECA News ...
CONECA Announces 2014 Literary Awards Program

A look at some of the previous year's recognition awards
March 23, 2013 -- The Combined Organizations of Numismatic Error Collectors of America (CONECA), the national numismatic error-variety coin club, announces its 2013/2014 Annual Literary Awards program. All participants submitting acceptable material will be eligible to receive recognition in the form of a specially produced award and certificate. Awards will be presented by CONECA at its annual Errorama Banquet in 2014 held in conjunction with the American Numismatic Association World's Fair of Money. The 2014 year's convention is to be announced. Read The Entire Article Here >>>>>
Club News ...
The Next ErrorSope Is A Commin'

The next issue of the Errorscope is going to be a must have.. Here is a Sneak Peak at the cover!
In The News ...
Suburban Show Turns Up Unusual Finds

Image © Ken Potter 2013 / Coin courtesy of Terry Thomas
February 23, 2013 -- I attended the 55th Suburban Detroit Coin Show Jan. 24-26, in Livonia, MI where I represented CONECA, offered free error-variety coin examination services and shot photos of some of the coins that came in. This year there where so many coins that I decided to narrow my semi-annual article on this show down to the one coin for each day that I felt were the most unusual.
I included a really nice 197? cent struck on a spectacular horizontally split planchet (submitted by our own Al Raddi), an Off Center 1922 Belgium (Fr. Leg) 50 centimes that was found in a "junk box" and a very rare 1977 Roosevelt dime with a predominantly copper reverse that was rolled to proper thickness. More photos of his finds can be seen in the the hard-copy version of Numismatic News. See the Numismaster.com article here >>>>>.
In The News ...
Third 1966 Doubled Die Rev. Cent Found

Images © Ken Potter 2013 / Coin courtesy of Jeff Young
February 20, 2013 -- Jeff Young, who reported the first 1983-D Lincoln cent struck on a solid 95% copper planchet, two weeks later reported finding a 1966 doubled-die reverse cent. It represents only the third example found (that I know of) since it was first reported upon in the CONECA Errorscope in 1999 and again in Numismatic News when the second specimen was discovered in 2011. To date I am not aware of an example trading either privately or through auction, but it assuredly falls into a value of thousands of dollars even in circulated grade. Young also had a number of other significant finds that he brought to my Stockbridge, MI antique shop location for photography (and to have his 1983 copper cent authenticated). More photos of his finds can be seen in the the hard-copy version of Numismatic News. See the Numismaster.com article here >>>>>.
In The News ...
NGC Authenticates 1793 Half Cent Planchet

Images courtesy of NGC
February 20, 2013 -- Numismatic Guaranty Corporation® (NGC®) of Sarasota, FL, has certified an unstruck planchet for 1793 Half Cents. Among the most unusual items ever seen by NGC, this recently submitted copper planchet for half cents was never struck with dies yet displays a perfectly lettered edge. This is entirely possible, as the edge lettering was applied first in a separate step before the obverse and reverse dies completed the process of coining.
What makes this particular planchet so appealing is that the edge device establishes that it was intended for half cents made only during 1793. Half cents dating from the first emission in 1793 through the end of calendar year 1795 were struck to the original standard of 104 grains, which translates into 6.739 grams. The unstruck planchet certified by NGC weighs 104.22 grains (6.75 grams), entirely within reasonable tolerance. This weight standard applied to all half cents dated 1793 and 1794, as well as the lettered edge half cents dated 1795 (plain edge half cents of that date were struck the following year on thinner, lighter planchets).
The small diameter of this planchet (21.2 mm) is correct for a 1793 half cent, which is approximately 22 mm after striking (those of 1794-95 are approximately 23.5 mm). In addition, this planchet bears an edge device known to numismatists as the Edge of 1793 and unique to half cents of that date.
Incuse lettering that reads TWO HUNDRED FOR A DOLLAR is followed by two leaves pointing at one another. Subsequent edge lettering dies featured just a single leaf. Both sides of the planchet are slightly raised near the edge, a by-product of the lettering process in which the planchet was rotated and compressed between two straight dies, each bearing half of the inscription. The faces display the rough surface typically seen on planchets prior to striking.
The history of this planchet prior to its submission to NGC is unknown. The submitter, a dealer based in California, did not provide a provenance to NGC, but there is no question that this specimen is a genuine planchet for the 1793 Half Cent. How and when it escaped the Mint is unknown, but there are documented accounts of planchets and other coining debris having been found at the site of the first US Mint when the building was razed in 1911. These were described by Frank H. Stewart, owner of the structure, who had it removed for the construction of his new building, which itself was razed in 1965. Stewart published a history of the original structure and its operations in 1924, in which he illustrated several planchets and struck coins found during his excavation (pages 118-119, History of the First United States Mint, reprinted by Quarterman Publications in 1974).
Dave Camire, Numismatic Conservation Services® (NCS®) President and Mint Error specialist stated, "It is truly amazing that even after 220 years 'previously unknown' errors such as this lettered edge planchet still surface."
NGC, NCS, PMG, CCG and CGC are trademarks or registered trademarks in the United States and/or other countries. All other names and marks referenced in this release are the trade names, trademarks, or service marks of their respective owners.
Error-Variety Hobby Loses A Pioneer ...
Alan Herbert
1926 - 2013
Alan Herbert, 86, of Belle Fourche died Saturday, January 19, 2013 at the Fort Meade Veterans Hospital. Alan (Masslich) Herbert was born in Chicago on June 13, 1926. He moved to New Hampshire at the age of 6. After his mother, Martha, remarried, he was adopted by his step father, Willis Erwin Herbert. Following high school he entered the Army in September 1944. After basic training at Camp Joseph T. Robinson in Arkansas, he served with the 15th Army Artillery in Europe. He remained in Germany until 1948 before marrying Liselotte Schellenberger and returning to the U.S. He operated the Fort Bragg, NC hospital radio station until his discharge in 1949. READ THE ENTIRE OBITUARY >>>
A Giant Amongst Giants ...
My Memorial To Alan Herbert
by Ken Potter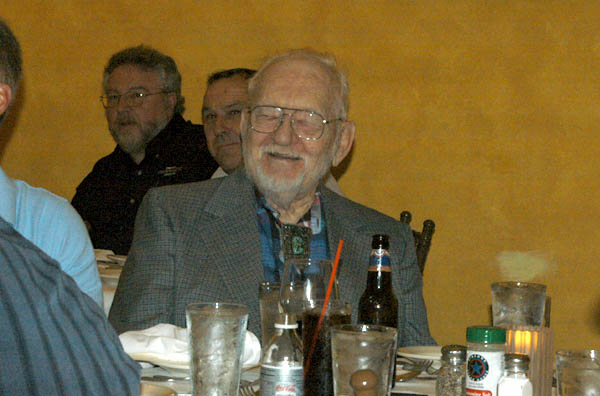 Alan Herbert at CONECA's 2011 Errorama Banquet
In 2002 Alan Herbert asked me to write the Foreword to his 6th edition of The Official Price Guide to Mint Errors (a honor that he asked me to repeat for his 7th edition). As a memorial to him I'd like to present what I said about him then for all to read now as every bit of it still holds true.
Foreword (To Alan Herbert's 2002 6th Edition of The Official Price Guide to Mint Errors)
In the face of decades of ignorance on the true causes of minting variety coins and intense ridicule from fellow hobbyists who perceived the collecting of these "curiosities" as a bit odd, the hobby continued to thrive and enjoy steady growth. In recent years its popularity has even surpassed the phase of being "trendy" and the hobby has become "respectable" in virtually all quarters.
Today professional grading services what wouldn't touch a mint variety [error] in the past have jumped on the bandwagon and vie with each other to offer "variety and error coin attribution services," while promoters of major conventions woo the Combined Organizations of Numismatic Error Collectors of America for the presence of their annual Errorama celebrations! Major auction houses that just a few decades ago essentially shunned error coins now solicit their presence and highlight them in their sales, while major dealers who previously regarded error and variety coins with scorn now enshrine them in professional certification holders and tout their attributes of grade, rarity, value, and desirability.
There is no doubt that a larger part of the error and variety hobby's growth and acceptance can be directly attributed to the landmark works of Alan Herbert.
In 1979 I discovered a variety on the obverse of a Canadian dollar coin. This variety made headlines in the numismatic press and catapulted me right into the midst of an area of specialization to which I was virtually ignorant but to which I'd become hopelessly hooked forever. Eager to learn more as quickly as possible, I obtained a used copy of Alan Herbert's 1974 first edition of The Official Price Guide to Mint Errors and quickly graduated to a new copy of the 1978 second edition. These books opened up a new world of collecting possibilities that for me eased the boredom of mainstream date-and-mintmark collecting.
From that point on I eagerly read everything I could possibly put my hands on that offered me a greater understanding of my newly discovered, wonderful world of numismatic errors and varieties.
Herbert's name was seemingly everywhere; he could be found penning columns and/or feature articles in Numismatic News, Error-Variety News, Coins Magazine, Coin Prices Magazine, World Coin News, Banknote Reporter, the CONE/CONECA ErrorScope, and others.
In 1979 this giant amongst giants seemed to me to be unapproachable. After all, how could a man this busy possibly have the time to talk to me? To my surprise he made the time, and throughout the years has offered his advice and expertise in all areas ranging from the error/variety coins themselves to the how-to's of coin photography. Today I regard him as the most influential individual who has helped me with my writing and research in this area. Due to his persistent efforts to continually update, refine, and correct hobby information throughout all the previous editions of all his books and his other works, Alan Herbert continues to stand tall as a giant in this hobby, and this book will undoubtedly educate and delight new generations of collectors well into the 21st century. #
In closing I'd like to say that the last time I saw Alan Herbert was at the 2011 ANA Summer Convention in Chicago. He spent a lot of time at the CONECA table and we spent hours chatting about the good old days and current events. When he reached into his pocket to purchase a ticket for the CONECA Banquet (as he had always done in previous years) I insisted on paying for it myself. It was my honor - a very small way of saying thank you for all he had done for me.
Since I was the CONECA officer that manned the CONECA table the majority of the time, dealers and grading services often sent folks over to me to get an opinion on a suspect coin . Time after time when somebody came to the table and asked for "Ken Potter" I often told them that he was "out to lunch" but that his mentor, the man that tutored him from the very start up to and including the how-to's of the photography set up that was sitting on the club table was there to answer their questions. I introduced them to Alan and had him take the reigns. I could see he was enjoying examining coins and expressing his opinions. After he was done I always told the visitors "by the way -- I'm Ken Potter."
Alan and I got a big kick out of this and it was a lot of fun (and some might argue that I'm "out to lunch" most of the time anyway). While there is no doubt that I felt honored standing within the shadow of this giant I did not realize just how much the tiny things we did and said at that table would mean to me today as I wiped the tears from my eyes. To me, Alan Herbert is and will always be my hero in this hobby. I and CONECA will miss him dearly and cherish the time we had with him. RIP Alan!
Recent Finds ...
First 1983-D Copper Alloy Transitional Cent Reported
by Ken Potter

Photo © Ken Potter 2013
Here's a look at the obverse of Young's coin

Here's a photograph of the 1983-D homogeneous Copper Alloy cent on Jeff Young's scale.
On Saturday 1/19/13 he brought the coin to Antiques By Time of Stockbridge, MI,
where I weighed the coin myself, did a visual surface analysis and ring test.
It passed with flying colors! If there is one known so far, are there more?
January 22, 2013 -- Jeff Young of Ohio appears to be the latest collector to find a heretofore unknown Transitional Error on a Lincoln cent. After years of searching he is now the first to report to me an example of a 1983-D cent struck on a pre-1982 (or early 1982) homogeneous copper alloy planchet or what most folks just call a "copper planchet." See Rest Of Story >>>
January 11, 2013 -- It was with great sadness that we learned that past CONECA member, John Bordner passed away earlier today. Thomas Kalantzis sent an email to me and a number of others saying: "I am very sorry, we lost John Bordner today to cancer, he was a good friend and father, a most Honorable man, always patient and always from the heart, I will miss him very much, I am waiting to hear where he will be laid out. He leaves behind his wife and his son JJ. He knew it was coming, and spoke to me in those terms. The last time I tried to speak to him I was heart broken."
John Bordner authored several books with John Wexler, Brian Ribar, Brian Allen and possibly others that dealt with coinage varieties. He was the president National Collectors Association of Die Doubling (NCADD), which he was forced to disband due to health issues within the past year. John Border's was a great contributor to the hobby and a friend. He will be missed. Our Historian, Al Raddi, who was a close friend of John's, will follow up on this with a more detailed account of John's contributions, etc. KP
Young Numismatists have the opportunity to earn full and partial scholarships for the American Numismatic Association's highly acclaimed 2013 Summer Seminar in Colorado Springs, Colo.

The two, one-week sessions are scheduled from June 22-28 and June 29-July 5. Scholarship applications from ANA members between the ages of 13-22 are due by Jan. 31.

In 2012, 38 full scholarships and 14 partial scholarships were awarded. Partial scholarships cover the cost of tuition while the full scholarships cover tuition, lodging and meals for one week as well as round-trip airfare. YNs will arrive one day prior to the start date of their session.

"Through the generosity of members and funds raised by the YNs themselves, the ANA awards as many as 40 merit-based full scholarships annually," said Susan McMillan, ANA education project manager. "This is an excellent opportunity for highly motivated and intelligent teenagers and young adults to enhance their knowledge of numismatics."

Scholarships are awarded on a merit basis. Successful applicants will need to demonstrate their involvement, leadership and accomplishments in numismatics, as well as a desire to learn more about the hobby.

Previous scholarship recipients are eligible to apply for 2013 scholarships; the selection committee will place particular emphasis on how their previous education at Summer Seminar helped to further their accomplishments and interest in numismatics.

Summer Seminar features a lineup of classes to meet virtually every collector's needs, including ancients, paper money, counterfeit detection, grading, Civil War numismatics, digital photography, Colonial numismatics, hobo nickels, medals, tokens and more.

Students learn from the hobby's most prominent scholars, rising young stars and successful business leaders. Young Numismatists and adults will be enrolled in the same classes, which require maturity and responsibility from every participant in the seminar. Last year, 400 students and instructors ranging in age from 13 to 87 attended Summer Seminar.

Scholarship recipients will attend one week-long class of their choice, will be lodged in a Colorado College dormitory with counselor supervision, and participate in seminar programs and events.

Summer Seminar marks its 45th year in 2013. The ANA has awarded YN scholarships yearly since 1973.

YN scholarship applications are available at www.money.org/SummerSeminar or by contacting the ANA education department at 719-482-9850 or by e-mail at mcmillan@money.org.

Scholarships will be awarded in March, and preference will be given to applicants who demonstrate dedication to the hobby.

The American Numismatic Association is a nonprofit organization dedicated to educating and encouraging people to study and collect money and related items. The ANA helps its 28,000 members and the public discover and explore the world of money through its vast array of programs including its education and outreach programs, museum, library, publications, conventions and seminars. For more information, call 719-632-2646 or go to www.money.org.
All serious numismatists have heard the old axiom "buy the book before you buy the coin" but it can also be stated to "buy the book so that you can find the coin."
A Pennsylvanian who wishes to remain anonymous did just that! She purchased a copy of my and coauthor Dr. Brian Allen's book, Strike It Rich With Pocket Change, and within several weeks after her purchase she found a 1983 Lincoln cent struck on a pre-1982 (or early 1982) homogeneous copper alloy planchet. She found it after reading our account on how Billy Crawford of SC found one by setting all the 1983 cents to the side, while looking for doubled dies and other varieties in circulated rolls, so that he could weigh them all later.
The cents struck from 1963 through about mid 1982 are of a solid brass composition made up of 95% copper and 5% zinc. They weigh 3.1 grams.
The cents struck from about mid 1982 through current are struck on planchets made up of a solid zinc core (with a trace of copper) that are barrel plated with pure copper and weigh 2.5 grams.
December 2012 -- Member Alex Helzel reports that he recently found a 1983-P Major Die Break Cud (at the base of Lincoln's Bust) while searching for errors and varieties in a String&Sons box of Lincoln Cents he purchased from his bank in Western PA. Alex stated "These really pop out at you when you find one!" Nice Find Alex!
September 26, 2011 -- The P.D.S. cataloging system used here to list minting varieties was originally compiled by Alan Herbert in 1971. PDS stands for the three main divisions of the minting process, "planchet," "die" and "striking." Two more divisions cover collectible modifications after the strike, as well as non-collectible alterations, counterfeits and damaged coins.
July 29, 2011 -- NGC has discovered what may be the first mint error in the America the Beautiful five ounce series. The coin, a 2010-P Yellowstone, has a matte Specimen finish on the Washington side and a brilliant, lustrous finish on the other. This mint error appears to be unique at present, but it is possible that others await discovery.
July 29, 2011 -- An 11th example of the undated double-denominated Sacagawea dollar/Washington quarter dollar mule error coin has surfaced, 11 years after the first example was found in Arkansas in 2000.
June 24, 2011 -- Gerald Fishman sent in this beautiful RPM on a 1936-D cent that is virtually a D & D (or some might argue is two separate Ds). At first glance, I couldn't see the secondary D. Nonetheless after titling it in just the right position, I found it to be a beauty of an RPM.
When looking at it from the west, all I could see was a vertical bar that is wider than any of the die scratches in the area, which seemed promising, but there didn't seem to be any detectable serifs and there seemed to be an incuse area where the belly of the D should have been. If I wouldn't have looked any further, I would have wrote it off as tiny gouge blended in with a bunch of die scratches and missed it completely.
However, when looked at it from the east with the top of the coin tilted slightly downward in moderate lighting, (too much light blasted it out of view), the entire D complete with rudimentary serifs popped out at me.
There are a number of essentially vertical die scratches on this coin in the area of the date. They are the result of fine-grit aluminum oxide cloth, a lapping stone or other fine-grit abrasive that has nothing in common with the secondary D but tends to hide the D until you get it in the right position.
Due to its extreme separation, Bill Fivaz and I have slated it for inclusion in the Cherrypickers' Guide To Rare Die Varieties 6th Edition Vol.1 by Fivaz and JT Stanton as FS-501 for the date/Mint/denomination.
November 05, 2005 -- If you have a story or just images to share you may have already tried sending them only to notice later that they never got posted. You probably wondered what happened. In actuality, there are a lot of good reasons for a story and/or images to NOT get posted on the web site but there are many things you can do to help get them up.
Let me backtrack just a bit to make note of the fact that this website is edited 100% on a voluntary basis. Thus, it is is updated on an "as time permits basis." However, the fact is, I simply do not have enough time to tend to my own affairs, (which includes administering my own website, filling orders and penning my columns/feature articles for Coin World, Numismatic News, World Coin News and Canadian Coin News), to add much more time to the CONECA site than I already am. What that means is the more complicated the information is that you send for me to edit the greater the chances are it will get pushed to the back burner or will get lost in the cracks.
I should also point out that many articles or images that needed extensive editing were on my old computer and are no longer assessable to me. In most cases they were stories that needed to have images worked in. Often the images were sent in formats that needed to be resized, edited or cropped to remove extraneous backgrounds. Some are sent in formats not suitable for the web and need to be converted from one format to another before they can be used. I have not found all formats easy or even possible for me to convert.
My suggestion is the make sure images are saved in standard formats used on most web sites. The CONECA website uses the jpeg format most and it is preferred. I also recommend cropping images to show the subject only. Images with large backgrounds need to be cropped by me to remove excess background so that the coin does not appear as a small dot lost in a sea of background after the image is resized to the format we use on the website. In general you can figure that we will show our images on the homepage at 500 pixels in width and on a feature page at 800 pixels wide. In effect send them cropped down to the subject with narrow borders for a background at 800 pixels in width and I will resize from there to fit the homepage. Additionally, please keep clutter out of the images.
The #1 reason for an image not getting used is the coin being shot in a 2x2 holder. Ugly staples and handwriting do not add eye appeal to a coin and are distracting. To make matters worse, the Mylar plastic in the window of a cardboard 2x2 or plastic of a flip often causes less than desirable reflections. These can sometimes be minimizes through some image editing but can never be eliminated completely and takes time to get to an acceptable level. I often set these to the side for processing later with the hopes I can find the time to rework the image(s) to remover the unsightly holders and/or reflections from view. Others images have less than desirable objects in the same view that need to be cropped or cloned out. All to often I just never get to images like this. If you take a half a second to remove the coin from the holder before shooting the image it will save me a lot of time editing and increase the odds that it will be usable. If you send your material at least almost ready to post the chances are much better I will get to it. If it has been awhile and you did not see your material posted you might consider resubmitting it. Things do get past me. I hope these suggestions help!
October 26, 2003 -- Without a doubt the most frequent question that we receive is about two-headed or two-tailed coins. There are occasional variations to the theme such as a Kennedy half dollar mated with a Mexican 20-centavos reverse or a Lincoln cent mated with a Roosevelt ten-cent reverse or a dime mated with a foreign coin reverse, etc., that are all related. What we say here will most often apply to them also ...
While most collectors believe that 1964 was the last year that the United States Mints struck 90% silver coins for circulation -- 1966 was actually the last year of the 90% silver coinage output for circulation! Specifically, 1964 dated 90% silver coins were produced from January 1964 through April of 1966!
CONECA was formed through a merger of CONE and NECA in early 1983. In what seems to have been such a short time -- we are now celebrating our 27th Anniversary! To learn more about the fascinating HISTORY OF THE ERROR HOBBY and THE HISTORY OF CONECA, we encourage you to visit those pages on our site! We thank everybody who has helped make CONECA the great success that it is today!
Persons with items of interest to the CONECA Web site or with questions relating to it may contact the webmaster, Ken Potter at: conecawebmaster